Welcome to HighView Kennels a small family run kennel located in Virginia. I dont have a large number of dogs but I am very proud of what I do have, quality over quantity. I like to consider myself a pet owner/bully fancier FIRST and breeder second. I don't have a lot of breedings taking place maybe one every few years to replinish my own stock. All of my breedings are thought out and planned very carefully with structure, balance, temperment and pedigree researched and considered. My goal is to produce ABKC Standard show quality dogs and dogs for pet homes that will make great family companions. I don't want to contribute to the overpopulation problem that the APBT and American Bully already faces. I am dedicated to breeding American Pit Bull Terriers and American Bullys that have lots of substance and muscle mass but still keep them clean and functional and will never sacrifice their health, athletisism and temperment to achieve the look I desire. Under no circumstances will I breed a dog that does not have a stable temperment. One of, if not my main goal is also to change the publics perception of the American Pit Bull Terrier and American Bully by raising my dogs to be loving and friendly to other dogs and their owners. Media, irresponsible owners and ignorance have given this breed a bad name and HighView Kennels is trying to do it's part to change all that to the best of our ability by taking our dogs out into the public and trying to create as much postive attention as we possibly can for the breed. They love us unconditionally and we as owners and breeders owe them that much. All of my dogs are raised like children and my family and I love and care for them as if they were. The main bloodline I prefer to work with is Razors Edge but I will occasionally outcross it to Gaff and York blood.
None of our dogs will be sold for the use of illegal activities, mainly fighting. If you fight pits, or any other dog for that matter, PLEASE exit my site because you are not welcome or wanted here.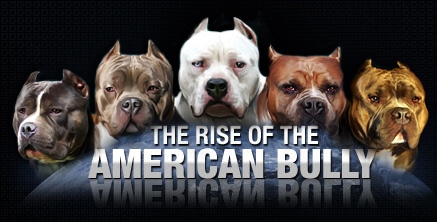 History of the American Bully
The American Bully is a breed established in the mid 1990's with the purpose of creating the ultimate family companion. The breed is a combination of the desired traits of the American Pit Bull Terrier and the American Staffordshire Terrier achieved through years of selective breeding. The American Bully breed possesses the loyalty and stability of the American Pit Bull Terrier while retaining the sociable, amiable and outgoing temperment of the American Staffordshire Terrier breed. This unique breed is noted for displaying extreme tolerance toward children and an overwhelming eagerness to please its family. Confident, yet not aggressive, this breed is all in all of a pleasant temperament. Physically, the American Bully has a graceful yet impressive, solid, defined, athletic build that is both muscular and toned and denotes strength as well as agility. It is a breed capable and diverse in all tasks and abilities. The American Bully is well rounded, reliable, trustworthy and an all around ideal family companion.

Please be sure to sign my guestbook and leave a quick message and your website addy.Take care!